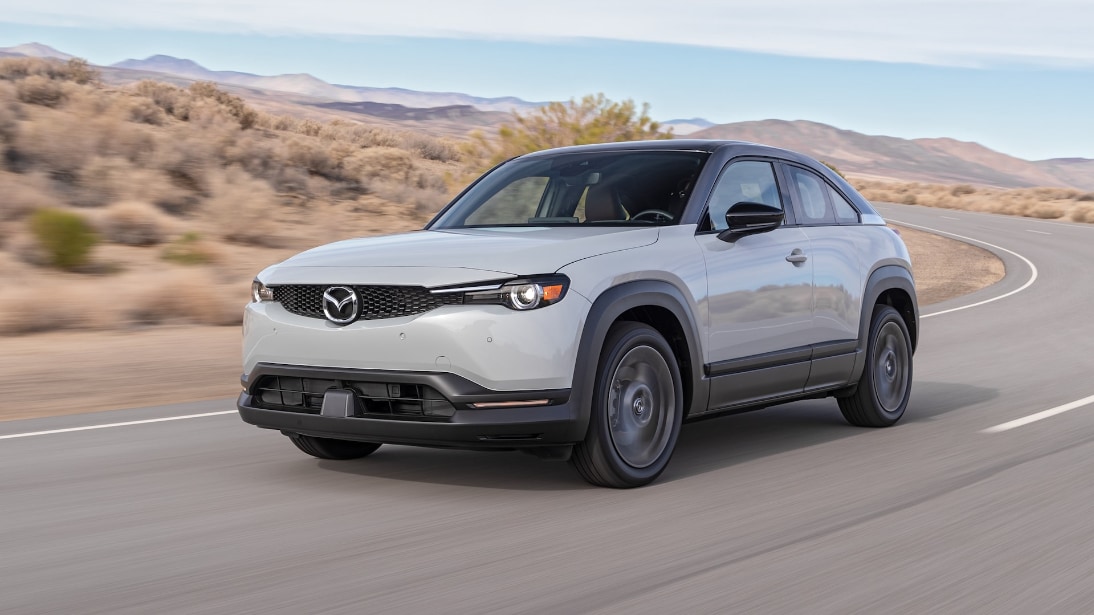 Mazda goes electric with its first, fully electric vehicle: the Mazda MX-30. This car was designed to meet your needs with the comfort and modern technology features you'd expect from a Mazda — while at the same time, taking care of our environment with lower emissions and at-home charging.
Mazda's Commitment to the Environment
Not only is the Mazda MX-30 all-electric vehicle better for the environment, but our engineers designed the MX-30 with sustainability in mind. The interior has been made by using sustainable materials such as cork for grip accents and recycled PET bottles for the door trim fabric — so you can feel good about driving a car that looks this good too.
The MX-30 electric motor provides an enjoyable driving experience with an estimated 100-mile range on a single charge. Purchasing the MX-30 can also qualify you for a federal rebate of up to $7,500 — making this vehicle good for the environment and your bank account. Your MX-30 can be charged at your home or a number of convenient public charging stations. Using a fast-charging station may take less than an hour to charge your vehicle from 20-80%.
Beautifully Designed with You in Mind
Each component of the MX-30 was designed with the driver in mind. At Mazda, we believe you don't need to sacrifice elegance in the name of functionality. The exterior builds upon our Kodo design philosophy with our unique "Human Modern" concept. With freestyle doors that open outward from the center and the floating theme of the interior, both drivers and passengers will have an enhanced driving experience — no matter where the journey takes you.
Intuitive Technology
The MX-30 features new e-Skyactiv technology that allows for a better driving experience. The MX-30 also has a top-of-the-line infotainment system, giving you full access to your phone via Apple CarPlay or Android Auto while keeping your eyes on the road and hands on the wheel. The 7" touchscreen display and Bose audio system make for an even more luxurious time in the car for drivers and passengers alike.
With the MyMazda App, you can check the charge and range of your MX-30, stop and start remote charging, and more — all with a simple tap of your fingers. You can also search for nearby charging stations and remotely control the car's temperature, all from your phone.
Top-Notch Safety
Mazda is committed to making vehicles that keep you and your passengers safe. Preventative measures and intelligent technology in the case of an accident can help you drive with confidence. The MX-30's body has been designed to absorb energy to protect all passengers. The battery is made with a shut-off mechanism that adds extra protection in the event of an accident. The Mazda MX-30 also has Blind Spot Monitoring to warn you of objects in your blind spot. The Lane Departure Warning and Lane-Keep Assist can help you stay in your lane, keeping you and those around you safe. Radar Cruise Control allows you to set your speed and following distance with the click of a button, so the car will slow down or stop as needed based on the driver in front of you.
Mazda's modern design, intuitive technology, top-notch safety features, and now — all-electric-option — have made Mazda the "Best Car Brand" in the market today. Interested in the Mazda MX-30? Stop into our Bob Penkhus Mazda showroom today (in-person or online) and our knowledgeable car experts will help you find exactly what you're looking for!
- Your friends at Bob Penkhus Mazda