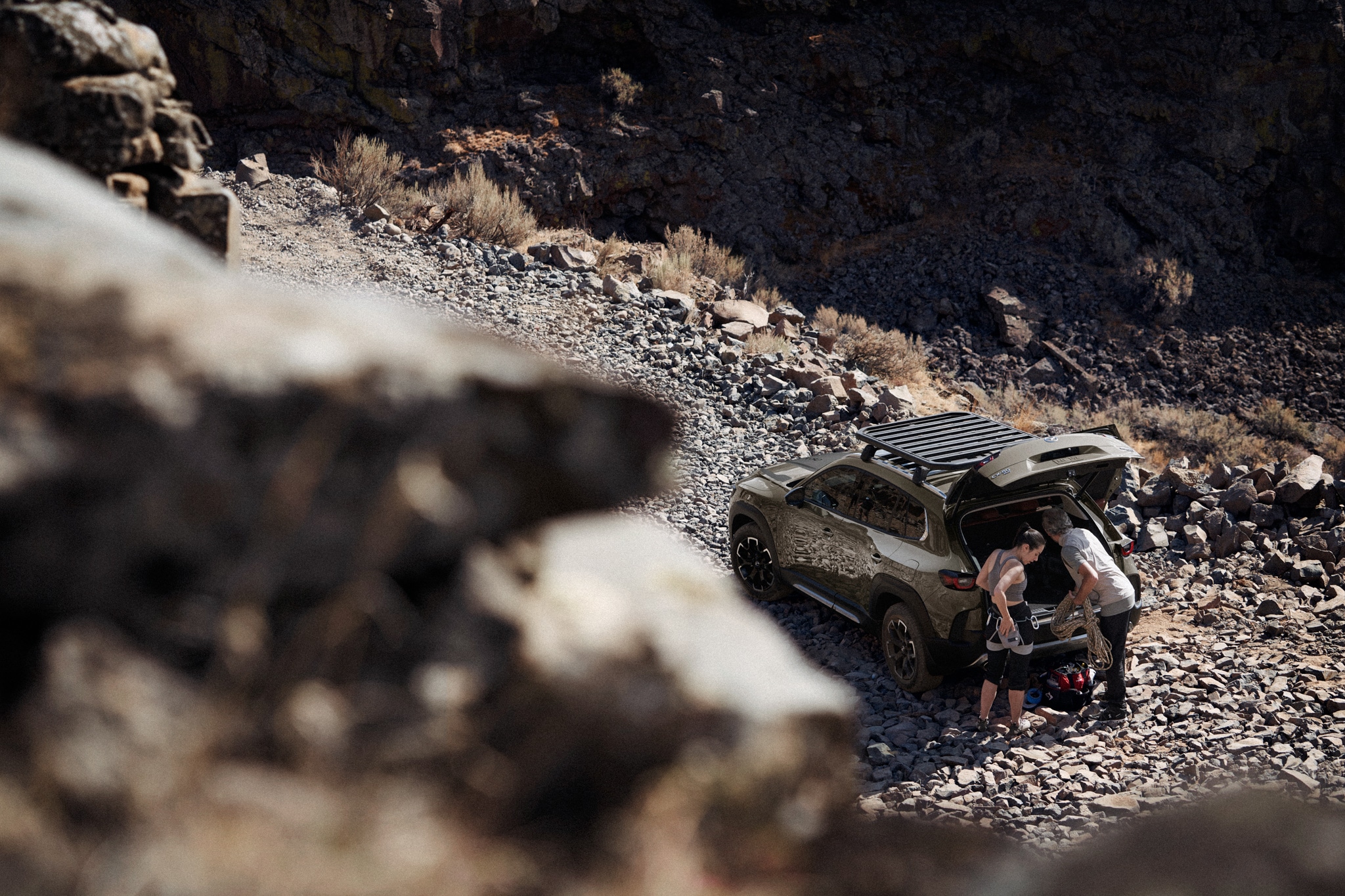 The Mazda CX-50 is here, and it's here to stay. Designed to connect drivers to the world around them, the CX-50 is equipped with everything you'll need for your next adventure. A newly refined design with added advanced driving technology and safety features – the Mazda CX-50 will take you wherever you want to go in confident style.
Remarkable Performance
The new Mazda CX-50 features various drive modes including normal, sport, and off-road — so you can tackle many driving scenarios without sacrificing quality and comfort. Mazda's i-Active All-Wheel Drive is a must-have for off-roading and driving in extreme weather. These, in addition to G-Vectoring Control Plus, make for a stable ride whether on or off the pavement. The CX-50 also offers a turbo engine that is perfect for the adventurer in you. It can deliver up to 256 horsepower and 320 lb-ft of torque for wherever the road takes you.
Impeccable Design
The interior and exterior were meticulously designed so you can ride comfortably in a car that's sure to get the attention it deserves. The seats are perfectly placed so you can feel relaxed while driving, with everything within reach. And, with the controls clearly visible, your focus can stay where it needs to be: on the road. From the terracotta-colored seats to the hiking boot lace-inspired stitching, the small details in the new CX-50 are a reminder of the natural world around us. The small details make the new CX-50 an exceptional vehicle. The available heated steering wheel helps keep you comfortable even in the middle of cold climates. Climate-controlled seats help ensure that you and your passengers have an enjoyable ride, no matter the season.
Beautiful Functionality
The Mazda CX-50 was designed with you in mind, with features that will help you explore the outdoors. The deep cargo floor is perfect for storing coolers and any gear you may need. The convenient liftgate makes it easy to load heavy items. Mazda also features a number of accessories so that you can customize your CX-50 to fit your lifestyle.
Intuitive Safety Features
The available Adaptive Front Lighting system helps you see around corners to spot any potential dangers ahead. The LED headlights turn as you do, illuminating the path before you, making night driving even safer. The new CX-50 features small cameras all around the vehicle, so you can clearly see your surroundings on the large dashboard screen. Mazda's safety features are there to help you drive with confidence. Blind Spot Monitoring warns you of vehicles in your blind spots, and Blind Spot Assist can help you stay in your lane when another car is detected. Traffic jam assist and Mazda's Lane Departure Warning System help you drive safely, even in grid-locked conditions.
Interested in a Mazda CX-50? Stop into our Bob Penkhus Mazda showroom today (in-person or online!). Our knowledgeable car experts are here and happy to help you find the Mazda you've been looking for. We'll show you why U.S. News & World Reports gave Mazda the "Best Car Brand" award (for 6 years and counting) and why we're proud to offer the best vehicles on the market today. Mazda has incredible specials and incentives available to you now! See how Bob Penkhus Mazda can help you save today.
- Your friends at Bob Penkhus Mazda